Our Story: Two Tanning Aficionados & A Cosmetology Research Lab
After over three years of research and development, our botanical cosmetology research partners (UMC Labs) and us - two tanning aficionados  - finally arrived at a breakthrough tanning oil blend composed of the finest organic oils, seasonally sourced in small batches from organic plantations and botanical gardens in the middle east.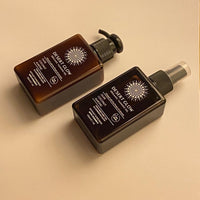 The Magic Ingredients
Cold Pressed Coconut Oil for Softness
Coconut Oil's natural fatty acids helps keep your skin's emollient and soft even after hours on sun-kissed beaches.

You get tanned while your skin texture remains protected.
Almond Oil for The Glow
The rejuvenating qualities of our organic almond oil extracts help keep your skin glowing and well-nourished.
Olive Oil's Finest Extracts for Nourishment
Rich in vitamin E, our  organic virgin olive oil extracts is a superior antioxidant that helps prevent skin damage.

Additionally, it moisturizes your skin and helps develop a perfect golden tan.
WHAT TANNING AFICIONADOS ARE SAYING ABOUT OUR PRODUCT